Hello, friends welcome back to the estudypoint website. Today I bring to you some important short questions from the poem "Meeting at Night", I hope it really helps you.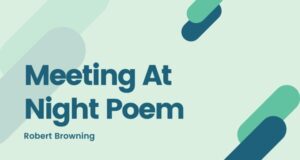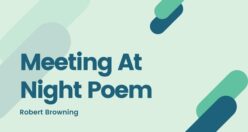 Meeting At Night Poem Short Question And Answer
Question 1: To which age in English literature does Robert Browning belong?
Answer 1. Robert Browning belongs to the Victorian age.
Question 2: Who wrote the poem,' meeting at night'?
Answer 2. Robert Browning wrote the poem meeting at night.
Question 3: In which work of Browning was 'Meeting at Night' published?
Answer 3. Meeting at Night was published in Robert Browning's dramatic Romance and lyrics.
Question 6: Why is meeting at night not a dramatic monologue?
Answer 6. Meeting at night is not a dramatic monologue because it does not reveal the speaker's character in a critical situation and has no silent listener.
Question 11. What does the first stanza of the poem, suggest?
Answer 11. The first stage of the poem 'Meeting at Night' suggests the lover's excitement for the secret journey.
Also Read: Meeting At Night Poem Meaning In Bengali
Also Read: Substance Of The Poem Meeting At Night
Also Read: Sick Rose Poem Bengali Meaning
Also Read: Daybreak Poem By Henry Wadsworth Longfellow Bengali Meaning
Question 12: What does the second stranger of meeting at night express question marks
Answer 12. The second stranger of meeting at night expresses the anticipation and the fulfillment of the secret meeting.
Question 15: How does Browning describe the half-moon?
Answer 15 The Half Moon is described as yellow and looks large as it shines low on the horizon.
Question 16. How does the poet personified the waves?
Answers 16. Robert Browning personifies the waves by describing them as it startled.
Question 17: How is firing this using the poem?
Answer 17. The phrase, fiery ringlets', is used in the poem as an image.